Vacation Bible Camp
Erb St Mennonite Church, along with Knox Presbyterian, Waterloo North and W-K United Mennonite Churches  invite kids finished JK-Grade 8 to Vacation Bible Camp, July 16-20, 2018 8:50am to noon. Please join us for  a community BBQ on Thursday July 19.
Cost is $25 per child (JK-Grade 5).
Jr Youth (Grades 6,7&8) will travel off site for recreation, Bible Study, service projects, snacks, crafts and fellowship. Cost is $35.00. 
Details will be updated as they become available. Contact the church office for more information.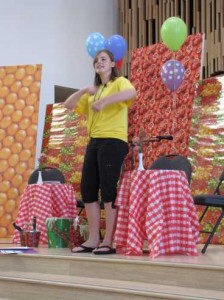 VBC is a week of fun and fellowship, and even an overnight for the youth.  A morning program with  optional afternoons as well.  Presented jointly with Knox Presbyterian Waterloo and Waterloo North Mennonite Church.  Always a fun time.