Vision
ROOTED, GROWING and BRANCHING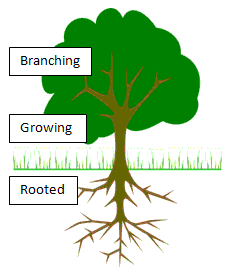 Erb Street Mennonite Church is a welcoming and inclusive community of diverse persons each contributing uniquely to our common purpose of following Jesus Christ.
ROOTED
Called by God, renewed by Jesus Christ, and united and empowered by the Holy Spirit, we desire to be an active spiritual presence in the Region of Waterloo.
As part of the larger Christian Church we are a living expression of Anabaptist values – revealing God's love, and demonstrating acceptance, peace, humility and hope.
Together we discern and nurture our individual and collective journey of faith through prayer, music,
worship, education and bible study.
GROWING
We create a place of refuge, support and guidance, so that all persons in our congregational community may find restoration and wholeness and be equipped to pursue God's calling for their individual lives.
We commit ourselves, with God's help, to continuous spiritual growth as individuals and as a congregation.
BRANCHING
Through service and in sharing God's word with our neighbours across the street and around the world, we reflect and testify to the good news of God's love, so that we may all know God's justice and healing.
Vision Statement 2004